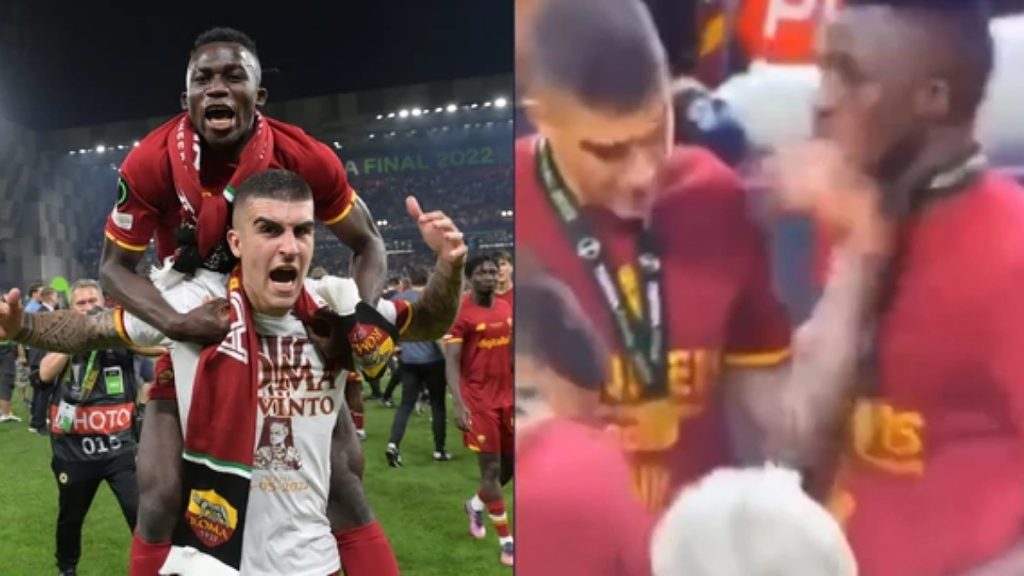 Gianluca Mancini, an AS Roma defender, has drawn attention after Felix Afena-Gyan was hit by him during their team's Europa Conference League triumph.
Afena-Gyan appeared to have moved toward the Italian to approach him for a picture with the trophy as the team celebrated its first triumph in Europe.
On television, however, Mancini could be seen brushing off the young striker before swiping his palm at him.
Numerous football fans were incensed by the episode, and the majority of them turned to social media to lambast Mancini for his conduct.
At the Arena Kombetare in Tirana, Albania, on Wednesday, Jose Mourinho's team defeated Feyenoord 1-0 to win the first Europa Conference League.
Roma's first European championship was won with a goal by Nicolo Zaniolo in the 32nd minute, which was enough to defeat the Dutch team.
Despite not being utilized as a substitute, Afena-victory Gyan's team's makes him the first Ghanaian footballer to win the Europa Conference League.
The 19-year-old forward is currently the youngest Ghanaian athlete to win a European championship.
READ MORE: Rice, Raphinha and GOAL's non-'Big Six' Premier League Team of the Season
In the meanwhile, Afena-Gyan later clarified the Mancini incident, saying: "It wasn't a major issue. We argue while making jokes. He is in that way. It's typical and not a big deal.
After winning the Europa Conference League, Roma will participate in the Europa League the following year.